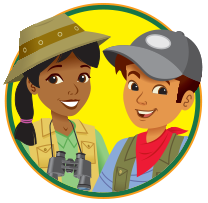 Prepare Your Children for The Greatest Journey
God has given us a wonderful gift … Jesus. We know that Jesus is who people need. He is the only way for people to be saved from sin and build a relationship with God. If you believe that, it is the good news!
We'll let you in on a secret: Telling others about Jesus really is the greatest journey. As followers of Jesus we are His disciples and are known by our love for God and for His children. What better way to help spread the Gospel than by teaching those between the ages of 6 and 10 about God's love for them.
This 12-part discipleship program invites you with opportunities to invite children to know Jesus, learn to be His friend, and follow him. It will help you continue to teach and disciple them after these lessons.
The courses are divided into a three part booklet series: